A pioneer in digital health and a recognized thought leader, people-inspiring founder, serial entrepreneur and global manager
Trained as a medical doctor and in marketing communications, his passion for medicine, computer science and human-technology interactions have led to his lifelong commitment and dedication to the advancement and spreading of digital healthcare, he holds a strong belief that digital innovations and technology will be the most impactful drivers of change in healthcare.
Roberto is currently CEO at Healthware Group, a global health innovation and technology leader providing transformational advisory and technology services for commercial, medical, and R&D operations of life-sciences and digital health companies, combined with design and development of digital medicines and digital therapeutics products.
Roberto is also very active in the digital health ecosystem in various advisor capacities both in Europe and in USA to companies, start-ups and investors; among others he has been recognized Best Industry Leader by The Health 2.0 – 10 Year Global Retrospective Awards in 2016, nominated Transformational Leader at the 2017 PM360 ELITE Awards and named among the 100 Most Inspiring People by PharmaVOICE in 2017.
He is a Founding Member of the Digital Therapeutics Alliance, has been President of the HealthTech Summit, and is Chairman at Frontiers Health, which emerged as one of the leading digital health conferences globally.​
He is a regular keynoter at global events as Webit, MWC, Wired Health, 4YFN, HIMMS | Health 2.0, Global Entrepreneurship Congress (GEC), TEDx, Codemotion, Upgraded Life Festival, Dublin Tech Summit, as well as large internal events for corporations like AXA, Bayer, BNP Paribas Cardif, EY, Merck, MSD, Roche, Sanofi.
In the past 25 years Roberto has been focusing on marketing and communications, business transformation and innovation in health and wellness: between 1997 and 2006 founded multiple companies at the intersection of healthcare and technology with main exit to Publicis Groupe in 2007; held multiple roles at Publicis Healthcare up to 2013 as Global President at Razorfish Healthware leading a Team of 300+ in 9 countries.
When not in New York City, London or Milan, then most likely, you will find him in Salerno along the Amalfi Coast, Italy.
"It was in 1993, when I was dreaming of computer science transforming medicine. A little later Healthware was born.
It is amazing to see how since then digital technologies have been disrupting healthcare: they have become the driving force behind better health outcomes and are helping to reduce the healthcare access divide."

Roberto Ascione
 Roberto's  books!
Technology is changing every aspect of our lives (from our attitudes). How will it impact the health universe? How our ways of thinking about it and above all the automatisms that we have inherited from our parents?
To take care of ourselves and our loved ones, already today, we need a radical change of mentality. What is learning needed? What awaits us? Remote control via smartphone, no exam queues, apps in place of medicines… Artificial Intelligence will also enter the field with force health, in some cases defining real "digital therapies". The change could not be more disruptive.
Roberto talks about the digital trasformation of health in the books "The Future of Health", available in Italian and in English.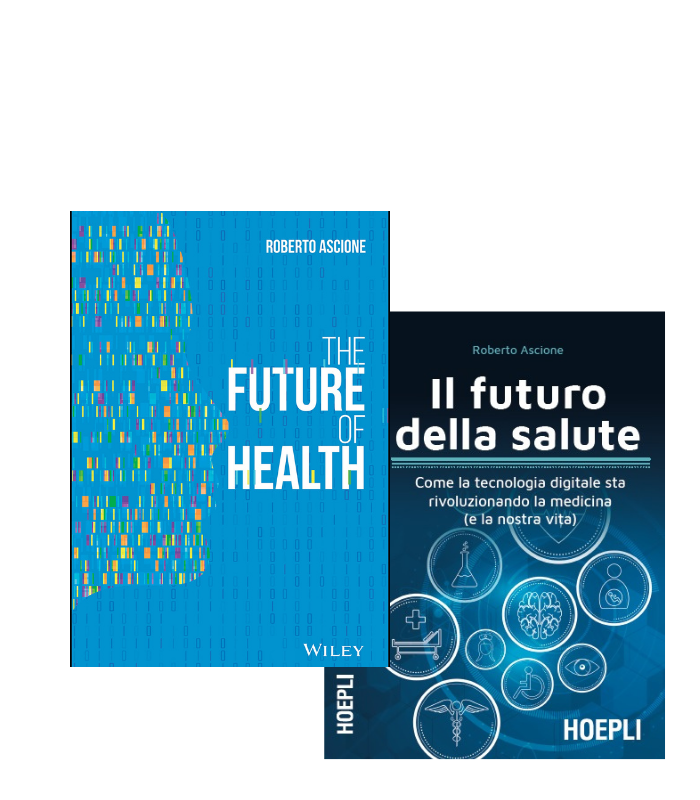 Invite Roberto for speaking opportunities, interviews or general inquiries