Discover Roberto's new book
The book was just released in Italy in Italian. English version available soon. Drop me a line to be notified when the English version is released!
"Il futuro della salute" [The future of digital health] describes the unstoppable transformation of the healthcare industry and the impact that this is having on our lives.
Book summary [Italian]
La tecnologia sta cambiando ogni aspetto della nostra vita (a partire dai nostri comportamenti). Come impatterà sull'universo salute?
Controlli a distanza tramite smartphone, non più code per gli esami, app al posto dei medicinali… anche l'Intelligenza Artificiale entrerà prepotentemente nel campo della salute, arrivando in alcuni casi a definire vere e proprie "terapie digitali". Il cambiamento non potrebbe essere più dirompente. La rivoluzione digitale sta per stravolgere il rapporto medico-paziente e dovremo tutti imparare a gestire comportamenti nuovi. Questo libro è l'anteprima della più importante trasformazione che l'evoluzione tecnologica abbia mai portato all'umanità.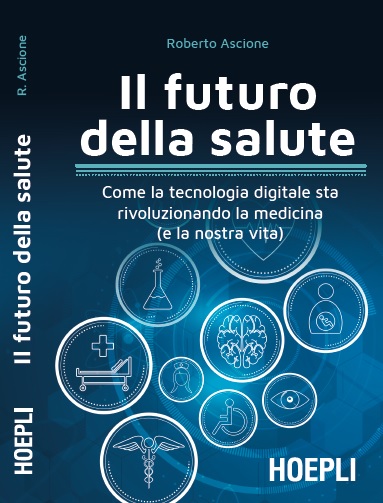 Digital Therapeutics

Data Science & Artificial Intelligence

Open Innovation & Startup
Watch Roberto's video about the Digital Health Future
Invite Roberto for speaking opportunities, interviews or general inquiries